AMC shares picked up on Monday, reached a daily high of $60.55.
Wall Street closed mixed, as the focus is on the US Federal Reserve's decision.
AMC keeps struggling to remain afloat despite frenzy fundraising.
Update June 14: AMC Entretainment Holdings Inc. gained 15.38% on Monday to close the day at $57.00, up for a second consecutive day. Fears about overbought conditions got diluted by resurgent demand of the meme stock, despite the company keeps struggling to stay afloat within the pandemic context. The advance, however, lacks follow-through. Despite recovering ground, technical indicators maintain their neutral stances, without directional momentum. The share is meeting sellers around the 23.6% retracement of its latest bullish run around the 60 figure, with gains beyond it anticipating another $10.00 run in the near-term.
Previous update: Some huge option open interest is driving the AMC share price higher as retail bulls go head-to-head with shorts and gamma squeezed market makers. Friday saw the stock just fail to close above $50, with a large option expiry for $50 calls. This coming Friday, June 18, sees a turn toward $40 calls, with a large open interest of 100,932 contracts as per the latest Refinitiv data.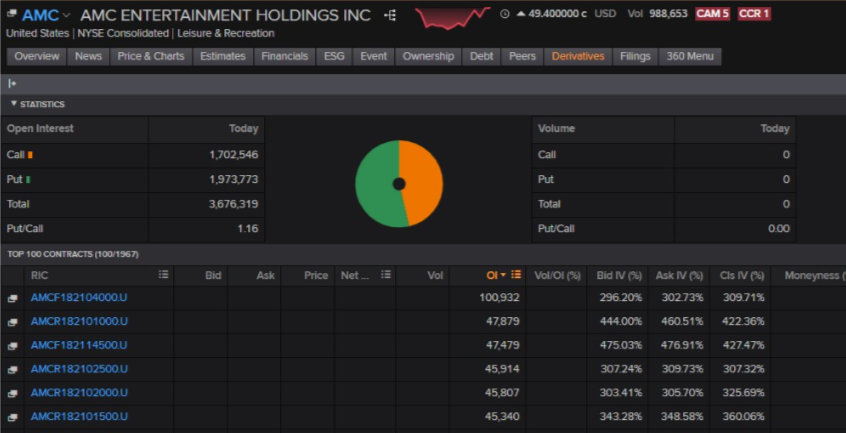 The first six option contracts all expiring this Friday total up to about 325,000 contracts. Each option contract is for 100 shares, so this is a total of 32.5 million shares potentially, a decent chunk. All bar the second one, the $145 calls are in with a good chance to expire in the money and who knows with AMC maybe the $145 strike will make it as well. Either way, it is a large number of underlying shares to be exercised. Now the market makers will have hedged most of the positions but perhaps not all, and it gives an interesting backdrop to the flow dynamics going on at present in AMC.
AMC stock forecast
Taking a bit more detail than usual with a 4-hour chart we can see how well AMC has stabilized at current levels around $50. The volume profile bars on the right of the screen show a lot of volume from $44 to $56, with the volume-based point of control being at $48.97. There is a total lack of volume sub-$38, and shares may see an acceleration to $30 if broken.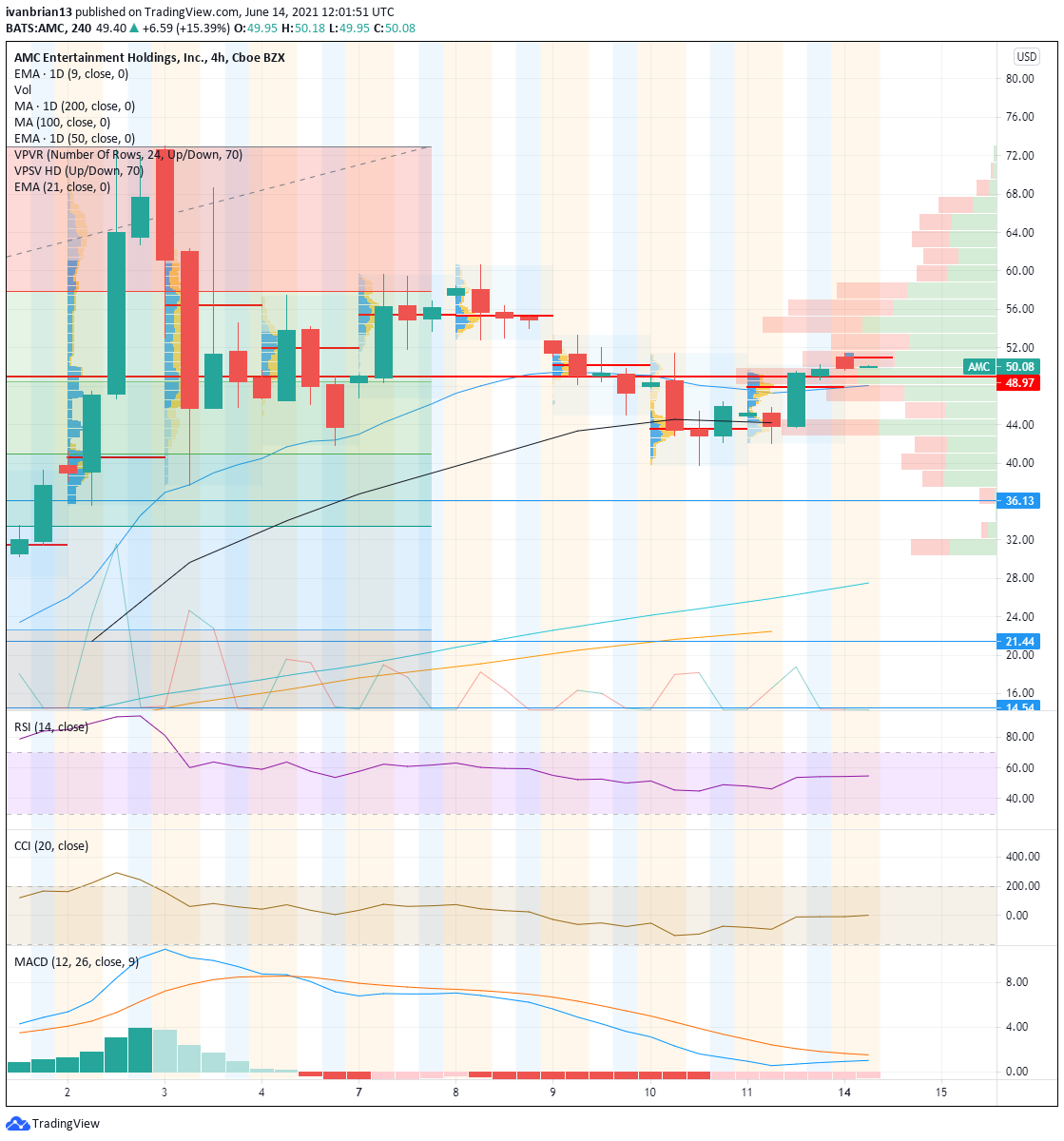 Returning to the broader picture and the most interesting technical point of view is how the recent consolidation phase has resulted in the momentum indicators –the Relative Strength Index (RSI) and Commodity Channel Index (CCI) – both returning to neutral levels. $42.43 is the 50% Fibonacci retracement from the most recent price explosion. Given the large open interest associated with the $40 calls.